The Wall Street Journal had an interesting article recently on Masonic Temples being turned into luxury Condos. This process, is sadly occurring because Freemasonry in the United States is dying a slow death. Lodges who have only 25% of the members they had 50 years ago find it increasingly difficult to afford the beautiful, magnificent and sometimes classical monstrosities they housed themselves in way back then.
Some of the blame for loss of membership must be placed squarely on the hands of Freemasons themselves who either refuse to treat race, religion and individuals with respect and tolerance or who refuse to police their ranks of those who exhibit such prejudicial behavior. The younger generations will not join organizations unless they are color blind, tolerant of all religions and respect the worth of the individual including basic civil rights and being treated with due process.
Of the many sales and near sales of great Masonic structures I can think of two recently in the news. First the Masonic Temple in Quincy, Massachusetts just last week gutted by fire was sold to a Realty Company with rental rights to the Masonic organizations that met there. It was the Realty Company doing much needed upgrading in the building who set off the blaze. Then there is the magnificent Detroit Temple which was saved from oblivion by a wealthy donor.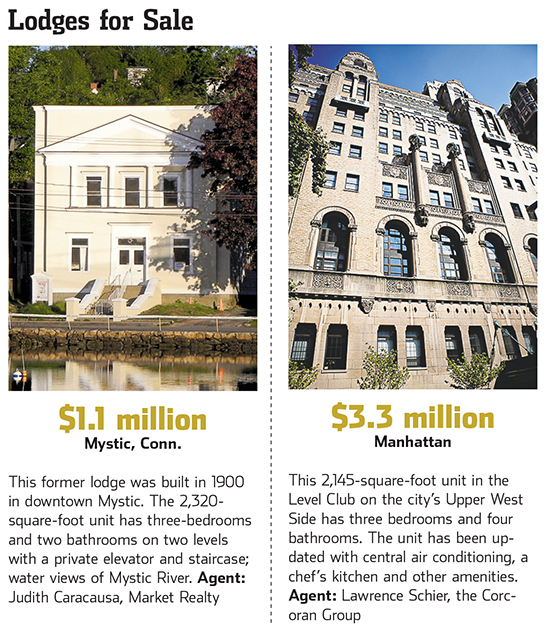 Here is a portion of that Wall Street Article:
Today, with membership down to about a million from four million in the 1950s, the Masons can't afford the upkeep of all these antiquated buildings, which are typically in downtown areas with limited parking. The absence of working elevators also makes the buildings difficult for aging members to use.

As a result, more Masons have sold their temples and relocated to smaller, more modern structures in the suburbs. Developers and individuals have snapped up the buildings, encouraged by the rebounding real-estate market and demand for luxury condos.

Last year, Craig Boardman says he was just accompanying a friend to a showing in a former Masonic temple in Columbus, Ohio. The condo had 40-foot-high ceilings, three enormous stained-glass windows, a spiral staircase and the original fireplace. "It was pretty awesome," says Mr. Boardman, a professor of public policy who bought a two-bedroom, two-bathroom for $300,000. (When he had the unit painted he found a lunchbox-size hiding spot behind the wall molding. Alas, it was empty.)

Called the York Temple, the red brick building was built in 1914 when the group, having grown to more than 1,000 members in 20 years, needed a bigger space. "It was busy most nights of the week," says Bill Hochstettler, who is on the board of trustees. At its peak in 1928, the lodge had more than 2,200 members. But by 2003, the number had fallen to less than 800 members—while the building's maintenance costs were averaging $30,000 a year. The group sold the building for $250,000 to Joe Armeni, owner of Re/Max City Center, who put about $4.5 million into a top-to-bottom renovation. Today it has 25 units, ranging from 700 square feet to 1,800 square feet, that have sold from $149,000 to $399,900.

In downtown Champaign, Ill., developer Robert Grossman bought a 33,000-square-foot, 1914 Masonic temple with terrazzo floors and intricate carvings in the staircases for $800,000 in 2008. "It was in terrible shape. But I looked at it and fell in love with it," he says. He spent $2.5 million converting it into 19 apartments, which rent for $900 to $2,000 a month each. He then re-christened it as the Lodge on Hill. The two- and three-bedroom apartments were all leased before the two-year construction project was finished. Even though he owns a 5,500-square-foot home nearby, Mr. Grossman kept the temple's best apartment for himself: a two-level, 3,600-square-foot unit with a roof patio.

In January, Thomas Thramann won zoning approval to convert a 13,000-square-foot, four-story Masonic lodge in Newport, R.I., into eight luxury condos—a process he estimates will take about two years—that would list for about $500 a square foot. Mr. Thramann bought the building 15 years ago for $156,000 and used it as a vacation home for several summers, sleeping on a bed in the middle of its roughly 5,000-square-foot meeting hall. "It was like camping," he says.

Still, selling the building to Mr. Thramann was difficult for the members. "It broke my heart," says Dan Titus, who was the lodge's worshipful master, the senior officer, at the time. The group couldn't afford to do the work required to meet safety codes and there was no parking. Mr. Titus sent out a ballot to all 500 members of the lodge and only two voted against selling. (One, a close family friend, never spoke to him again, he says.) "My father and grandfather were in that lodge. But when you have so many aging members, what can you do? If I won the lottery tomorrow, I'd buy the building back."
Related articles